WWWWWWWWWW


Site Directory


Tom's Inflation Calculator



Inflation Calculator
Frequently Asked Questions


Microprocessor Report
(article index)


BYTE Magazine Archive
(article index)


Unofficial BYTE FAQ
( R.I.P. 1975-1998 )


Shutterbug Archive
(magazine articles)


Unseen Photos
of a Lost Artwork


Recent Movies

All the Beauty and the Bloodshed documents P.A.I.N. (Prescription Addiction Intervention Now), the movement that held Oxycontin, Purdue Pharma, and its Sackler-family owners responsible for the opioid drug crisis that has killed more than 400,000 people. Led by famous photographer Nan Goldin, the activists bankrupted the company, extracted $6 billion in cash, and convinced many institutions that had received Sackler donations to remove the family's name from their museums and art galleries. But the Sacklers weren't criminally prosecuted. This visually graphic film garnered an Oscar nomination for Best Documentary Feature. Although it traces the movement's evolution, it dwells more on Goldin's tragic family history, avant-garde photography, and sordid past. It should have been two documentaries.

Babylon simultaneously celebrates and denigrates Hollywood but ultimately is a tribute to the motion-picture industry. Be warned that at times it's sexually graphic and violent, and the dialogue is always coarse. It's also more than three hours long, though never boring. It opens during the 1920s silent-film era when Hollywood was awash in money, sex, drugs, and scandals. Little-known Diego Calva stars as a young Mexican immigrant yearning for even the lowliest job on a movie set. During a huge depraved party at a producer's mansion, he falls in love with a young woman who's eager to become an actress. Margot Robbie nails this role and should have been nominated for an Oscar. Brad Pitt adeptly plays a silent-film star who has trouble adapting to talkies. This production is extravagant in depicting Hollywood extravagance and decadence, sometimes exaggerated. Babylon achieves the rarity of being both revolting and uplifting.

Tár wastes Cate Blanchett's Oscar-nominated performance on a disjointed story about a top-rank orchestra conductor whose career is jeopardized. To establish her expertise, much of the dialogue contains esoteric references to classical music in three languages (English, German, and French) that only viewers deeply immersed in this culture will understand. Much less of this showy talk would have sufficed. A few brief scenes hint of future trouble, but not until halfway does this film begin to reveal itself — and even then, it takes irrelevant detours. The emergent theme is a gender-reversed "Me Too" scandal involving allegations of sexual impropriety that is negatively compared with overzealous denazification after World War II. But the theme is nearly lost in abrupt scenes and choppy editing. Too bad, because Blanchett's performance is spectacular. Oddly, this jumbled production has been nominated for six Oscars: Best Picture, Director, Actress (Blanchett), Original Screenplay, Cinematography, and (?!) Film Editing. It won nothing.

See more mini-reviews, including The Whale ... Top Gun: Maverick ... Elvis ... Nope ... Everything Everywhere All at Once ... Minamata ... CODA ... and hundreds more!
Tom's Inflation Calculator
Tom's Inflation Calculator includes the latest U.S. government inflation data for 2022 plus alternative data sets. It's free and should run automatically in your web browser after clicking on the link above. By using historical data and forecasts, it can adjust U.S. dollar amounts for retail price inflation either forward or backward in time for any years between 1665 and 2100.
Tom's Inflation Calculator also includes the Personal Consumption Expenditures Price Index, which the Federal Reserve uses to guide its monetary policy, plus an alternative data set from ShadowStats, a private company. It's the best inflation calculator on the Internet!

Computer Dictionary
Common Terms Defined
Are you baffled by a technical term or acronym you've never seen before? Or just curious about the latest techie slang? Tom's Computer Dictionary may have the answer. From "AAC" to "zoo virus," it defines more than 900 terms in plain language. Learn to speak geek!

Unseen Photographs
of a Lost Artwork
"Partially Buried Woodshed" was an unorthodox earth artwork created in 1970 by Robert Smithson at Kent State University in Ohio. After an arson attack and decades of deterioration, only traces remain, and new campus buildings and parking lots occupy the site. I took numerous photographs of the artwork while it still existed in 1975–76. Now you can see a few of them, never before published.

Guitar Cheat Sheet
Do you want to learn the most common major and minor guitar chords? Instantly transpose songs from one major key to another? Find out which major and minor chords go together? Play scales in any major key? Learn the notes on the fretboard? It's easy! And it's free! Just download and print Tom's Guitar Cheat Sheet.

Index to Tom's Articles

Here's an index to more than 500 of Tom's articles in Microprocessor Report, the insider's guide to microprocessors, networking chips, and mobile-phone chips. Learn about embedded processors, microcontrollers, digital-signal processors, and other chip-related topics. (Subscription required for most articles.)

Scramble Text With ROTator
ROTator is an applet that lets you encode and decode text in the popular Internet format known as "ROT 13." Lots of other programs do that, but my applet goes further by allowing you to encode and decode text in any rotational letter-substitution format. You can shift the letters left or right, and you can shift them by any number of letters from ROT 1 to ROT 26. Use my all-new JavaScript version (recommended) or the original Java version.

Test Your Java Security
How safe is your system from hostile Java applets? Find out with JSecure, one of Tom's free applets. JSecure harmlessly tests the security manager of your Web browser or applet viewer by trying to access information from your computer's operating system and hard disk. Try it today!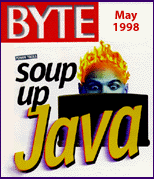 BYTE Articles

Here's an index to more than 180 of Tom's computer articles from BYTE Magazine published from 1992 to 1998. (BYTE ceased publication with the July 1998 issue.) Most articles are still available online and some include the original photographs and figures.

And more stuff...
Visitors to this web site since August 29, 1966:

Last site update: June 3, 2023