WWWWWWWWWW


Site Directory


Tom's Inflation Calculator



Inflation Calculator
Frequently Asked Questions


Microprocessor Report
(article index)


BYTE Magazine Archive
(article index)


Unofficial BYTE FAQ
( R.I.P. 1975-1998 )


Shutterbug Archive
(magazine articles)


Recent Movies

Nomadland is one of the best films of 2020. Frances McDormand plays a recent widow who also lost her job, house, and savings after the Crash of 2008. Reduced to living in a small van converted into a camper, she roams the West, taking any jobs she can find. At Christmas, she packs boxes at a huge Amazon warehouse. At other times she flips burgers, harvests beets, or cleans restrooms. Soon she joins a loose group of fellow RV campers—mostly other people who are down and out, but also folks who prefer the lifestyle. Chinese director Chloé Zhao adapted this quiet screenplay from Jessica Bruder's nonfiction book of the same name. Although veteran actor David Strathairn plays another roamer, most characters are real people playing some version of themselves. Together with McDormand's minimalist acting style and Joshua Richards' straightforward camera work, this powerful story resembles a documentary. It's nominated for six Oscars, including Best Picture, Director, Adapted Screenplay, Film Editing, Actress, and Cinematography.

Minari is the second South Korean film to score a hit in the USA—an impressive achievement during a pandemic year that closed theaters. (The first Korean hit was Parasite, which won Academy Awards for Best Picture and Best International Film in 2019.) Minari is a fictional drama based on the childhood memories of its director, Lee Isaac Chung. Frustrated by his dead-end job in California, a Korean immigrant buys 50 acres in Arkansas and moves there with his wife, daughter, and son. He wants to grow Korean vegetables to serve fellow immigrants in the region, but his family is skeptical and abhors their remote mobile home. This excellent film shows the challenges of first-generation immigration, cultural assimilation, family farming, and the heavy responsibility of a husband and father to become a good provider. All the performances are superb. It has been nominated for six Oscars, including Best Picture, Director, Actor (Steven Yeun), Actress (Yuh-Jung Youn), Original Screenplay (Chung), and Original Score (Emile Mosseri). (Mostly Korean with English subtitles.)

Feels Good Man is a dynamite documentary that explains how Internet meme spreaders, conservative commentators, and alt-right weirdos stole and altered a cartoon character for their own purposes. California artist Matt Furie created Pepe the Frog in 2005 for his "Boy's Club" satirical comics, which received little attention. Then other people began copying the character. The initial adaptations were innocuous, so Furie didn't object. But when conservatives began using Pepe to promote anti-Semitism, racism, and other malicious propaganda, Furie engaged copyright attorneys in a belated attempt to reclaim his rights. This film shows how something as innocent as a cartoon frog can be drafted to fight in today's culture wars.

See more mini-reviews, including Jojo Rabbit ... 1917 ... Effigy: Poison and the City ... Star Wars: Episode IX—The Rise of Skywalker ... Parasite ... Dark Waters ... The Good Liar ... A Beautiful Day in the Neighborhood ... Joker ... The Current War ... Once Upon a Time in Hollywood ... Downton Abbey ... The Farewell ... Echo in the Canyon ... Yesterday ... Apollo 11 ... Us ... They Shall Not Grow Old ... Free Solo ... and many more!
Tom's Inflation Calculator
Tom's Inflation Calculator includes the latest U.S. government inflation data for 2020 plus alternative data sets. It's free and should run automatically in your web browser after clicking on the link above. By using historical data and forecasts, it can adjust U.S. dollar amounts for retail price inflation either forward or backward in time for any years between 1665 and 2100.
Tom's Inflation Calculator also includes the Personal Consumption Expenditures Price Index, which the Federal Reserve uses to guide its monetary policy, plus an alternative data set from ShadowStats, a private company. It's the best inflation calculator on the Internet!

Computer Dictionary
Common Terms Defined
Are you baffled by a technical term or acronym you've never seen before? Or just curious about the latest techie slang? Tom's Computer Dictionary may have the answer. From "AAC" to "zoo virus," it defines more than 900 terms in plain language. Learn to speak geek!

Guitar Cheat Sheet
Do you want to learn the most common major and minor guitar chords? Instantly transpose songs from one major key to another? Find out which major and minor chords go together? Play scales in any major key? Learn the notes on the fretboard? It's easy! And it's free! Just download and print Tom's Guitar Cheat Sheet.

Index to Tom's Articles

Here's an index to more than 500 of Tom's articles in Microprocessor Report, the insider's guide to microprocessors, networking chips, and mobile-phone chips. Learn about embedded processors, microcontrollers, digital-signal processors, and other chip-related topics. (Subscription required for most articles.)

Scramble Text With ROTator
ROTator is an applet that lets you encode and decode text in the popular Internet format known as "ROT 13." Lots of other programs do that, but my applet goes further by allowing you to encode and decode text in any rotational letter-substitution format. You can shift the letters left or right, and you can shift them by any number of letters from ROT 1 to ROT 26. Use my all-new JavaScript version (recommended) or the original Java version.

Test Your Java Security
How safe is your system from hostile Java applets? Find out with JSecure, one of Tom's free applets. JSecure harmlessly tests the security manager of your Web browser or applet viewer by trying to access information from your computer's operating system and hard disk. Try it today!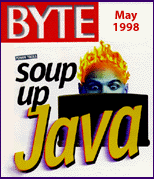 BYTE Articles

Here's an index to more than 180 of Tom's computer articles from BYTE Magazine published from 1992 to 1998. (BYTE ceased publication with the July 1998 issue.) Most articles are still available online and some include the original photographs and figures.

And more stuff...
Visitors to this web site since August 29, 1966:

Last site update: October 18, 2021