WWWWWWWWWW


Site Directory


Tom's Inflation Calculator



Inflation Calculator
Frequently Asked Questions


Microprocessor Report
(article index)


BYTE Magazine Archive
(article index)


Unofficial BYTE FAQ
( R.I.P. 1975-1998 )


Shutterbug Archive
(magazine articles)


Tom's Oscar Contest
2016 results


Tom's Oscar Contest
Hall of Fame


Recent Movies

Darkest Hour stars Gary Oldman in a career-topping role as Winston Churchill, the defiant prime minister of Great Britain during World War II. Oldman deftly portrays Churchill's little-known side: hesitation and self-doubt at a time of crisis. The story covers a brief but pivotal period in 1940 when Nazi Germany overwhelmed France, drove the British army into the sea at Dunkirk, and awaited what would surely be Great Britain's plea for armistice. Although history books recount Churchill's refusal to negotiate, it wasn't an easy decision, and his inner circle was divided. Lily James (Lady Rose in Downton Abbey) plays Churchill's secretary to lend a feminine touch to this male-dominated story, which is mostly historically accurate and powerfully told.

Three Billboards Outside Ebbing, Missouri stars Frances McDormand as the aggrieved mother of a murdered teenager in a small town. Upset that the killer hasn't been caught, she taunts the local police by renting three billboards to advertise her frustration. The resulting chain of events disrupts the town and takes several unexpected turns. Rarely do middle-aged actresses find such meaty lead roles in today's Hollywood movies, and McDormand makes the most of it. Her award-worthy performance gets strong support from Woody Harrelson as the equally frustrated police chief, Sam Rockwell as a near-psychopathic cop, and John Hawkes as her abusive estranged husband. This film veers from stark drama to dark comedy and never fails to surprise. It's another triumph for writer/director Martin McDonagh, who was nominated for a screenwriting Oscar for In Bruges (2008) and won an Oscar for his live-action short film Six Shooter (2006).

Blade Runner 2049 is the worthy sequel to the gritty 1982 science-fiction film starring Harrison Ford. Placed 30 years further in the future, it stars Ryan Gosling as a Los Angeles cop who hunts and kills rebellious replicants—artificial, genetically enhanced humanoids. His routine mission gains importance when he suspects they have found a way to reproduce. Ford reprises his original role, 30 years older, but Gosling dominates the picture with a stoic performance. Cameo appearances and allusions to the 1982 film will please its cult following. The climax satisfies while leaving room for additional sequels, although they will struggle to top the existing works.

Dunkirk dramatizes Operation Dynamo, which rescued more than 400,000 British and French troops from the beaches of Dunkirk, France, in early World War II. Surrounded by German forces, harassed by bombers, the Allied troops were trapped with their backs to the English Channel. To evacuate them, the British desperately mobilized hundreds of fishing boats and pleasure craft. Study this history before seeing the movie, because writer and director Christopher Nolan (Interstellar, The Dark Knight, Batman Begins, Memento) offers no help. Unsatisfied with history's gift of a strong story, he resorts to scrambled editing and deliberate discontinuity to bring confusion to the screen. Is it day or night? Is it today or tomorrow? Is it England or France? Nolan works hard to undermine his fine actors and special-effects wizards. With more respect for the story, this could have been a great film.

>> See more mini-reviews, including Baby Driver ... Wonder Woman ... Alien: Covenant ... The Circle ... Moonlight ... Hidden Figures ... Manchester by the Sea ... La La Land ... Collateral Beauty ... Hacksaw Ridge ... Loving ... Arrival ... and many more!
Tom's Inflation Calculator
Tom's Inflation Calculator is now updated with the latest data for 2016!
My calculator includes the latest U.S. government inflation data plus alternative data sets. It's free and should run automatically in your web browser after clicking on the link above. By using historical data and forecasts, it can adjust U.S. dollar amounts for retail price inflation either forward or backward in time for any years between 1665 and 2100. (The alternative data sets have narrower ranges.)
Tom's Inflation Calculator also includes the Personal Consumption Expenditures Price Index, which the Federal Reserve uses to guide its monetary policy, and an alternative data set from ShadowStats, a private company. It's the best inflation calculator on the Internet!

Computer Dictionary
Common Terms Defined
Are you baffled by a technical term or acronym you've never seen before? Or just curious about the latest techie slang? Tom's Computer Dictionary may have the answer. From "AAC" to "zoo virus," it defines more than 800 terms in plain language. Learn to speak geek!

Guitar Cheat Sheet
Do you want to learn the most common major and minor guitar chords? Instantly transpose songs from one major key to another? Find out which major and minor chords go together? Play scales in any major key? Learn the notes on the fretboard? It's easy! And it's free! Just download and print Tom's Guitar Cheat Sheet.

Index to Tom's Articles

Here's an index to more than 420 of Tom's articles in Microprocessor Report, the insider's guide to microprocessors, networking chips, and mobile-phone chips. Learn about embedded processors, microcontrollers, digital-signal processors, and other chip-related topics. (Subscription required for most articles.)

Scramble Text With ROTator
ROTator is an applet that lets you encode and decode text in the popular Internet format known as "ROT 13." Lots of other programs do that, but my applet goes further by allowing you to encode and decode text in any rotational letter-substitution format. You can shift the letters left or right, and you can shift them by any number of letters from ROT 1 to ROT 26. Use my all-new JavaScript version (recommended) or the original Java version.

Test Your Java Security
How safe is your system from hostile Java applets? Find out with JSecure, one of Tom's free applets. JSecure harmlessly tests the security manager of your Web browser or applet viewer by trying to access information from your computer's operating system and hard disk. Try it today!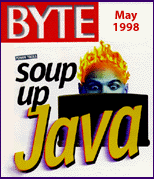 BYTE Articles

Here is an index to more than 180 of Tom's computer articles from BYTE Magazine published from 1992 to 1998. (BYTE ceased publication in June 1998.) Most articles are still available online and include the original photographs, figures, and screen shots.

And more stuff...
Visitors to this web site since August 29, 1966:

Last site update: December 15, 2017