WWWWWWWWWW


Site Directory


Tom's Inflation Calculator



Inflation Calculator
Frequently Asked Questions


Microprocessor Report
(article index)


BYTE Magazine Archive
(article index)


Unofficial BYTE FAQ
( R.I.P. 1975-1998 )


Shutterbug Archive
(magazine articles)


Tom's Oscar Contest
2017 results


Tom's Oscar Contest
Hall of Fame


Recent Movies

A Wrinkle in Time is largely faithful to the popular young-adult novel by the late Madeleine L'Engle, first published in 1962. (I loved it in 5th grade and read it again before seeing this film.) The modern multiracial cast may surprise some viewers; like most books written in those days, it assumed everyone is white. The story hasn't changed, however. Melding science fiction and fantasy, it's about three extraordinary children who search for a missing scientist — the father of two of them. The kids receive unexpected help from three mysterious women (charmingly played by Oprah Winfrey, Reese Witherspoon, and Mindy Kaling) who seem to have supernatural powers. But the stars are Storm Reid as troubled daughter Meg, Deric McCabe as prodigy son Charles Wallace, and Levi Miller as their friend, Calvin. Although special effects beyond the reach of 1960s filmmaking help bring this marvelous story to life, director Ava DuVernay wisely preserves the book's theme: love versus evil.

The Phantom Thread stars Daniel-Day Lewis in what he claims will be his last role. It's also his perfect role, because he's a fussy auteur who plays a fussy auteur. His character is a high-class English dress designer who caters to the wealthy and royalty. They are demanding clients, but he is equally demanding of himself and his staff. He's so fussy that the sound of someone buttering toast a little too briskly can ruin his whole day. Into this passive-aggressive environment he brings a hotel waitress who soon becomes his favorite model and assistant. Then things take a bitter turn. The acting, art direction, costuming, and cinematography in this period piece are superb, but the story is stupid. By the abrupt climax, the characters seem out of character. Maybe it's an allegory, like the fable of the emperor's new clothes. Or maybe this auteur film is wearing those clothes.

The Post dramatizes the 1971 publication of the Pentagon Papers in The Washington Post. Although The New York Times first broke the story, the Post soon followed. Their exposé of a classified history of the Vietnam War compiled for the Defense Department sparked a showdown before the U.S. Supreme Court. Meryl Streep plays an uncomfortable Katherine Graham, a D.C. socialite who became publisher of the Post after her husband's suicide. Tom Hanks plays hard-nosed editor Ben Bradlee, bringing a softer edge to the character than is perhaps justified. Matthew Rhys portrays Daniel Ellsberg, the former intelligence analyst who leaked the papers, but his role is relatively minor in this film. Instead, it focuses on the journalists' efforts to report the story, President Nixon's attempts to quash it, and the publisher's fear that the government will drive her newspaper out of business. For its historical drama and relevance to current events, The Post is one of the best movies of 2017.

>> See more mini-reviews, including All the Money in the World ... Lady Bird ... Star Wars: The Last Jedi ... Get Out ... Darkest Hour ... Three Billboards Outside Ebbing, Missouri ... Blade Runner 2049 ... Dunkirk ... Baby Driver ... Wonder Woman ... Alien: Covenant ... The Circle ... and many more!
Tom's Inflation Calculator
Tom's Inflation Calculator is now updated with the latest data for 2017!
My calculator includes the latest U.S. government inflation data plus alternative data sets. It's free and should run automatically in your web browser after clicking on the link above. By using historical data and forecasts, it can adjust U.S. dollar amounts for retail price inflation either forward or backward in time for any years between 1665 and 2100. (The alternative data sets have narrower ranges.)
Tom's Inflation Calculator also includes the Personal Consumption Expenditures Price Index, which the Federal Reserve uses to guide its monetary policy, and an alternative data set from ShadowStats, a private company. It's the best inflation calculator on the Internet!

Computer Dictionary
Common Terms Defined
Are you baffled by a technical term or acronym you've never seen before? Or just curious about the latest techie slang? Tom's Computer Dictionary may have the answer. From "AAC" to "zoo virus," it defines more than 900 terms in plain language. Learn to speak geek!

Guitar Cheat Sheet
Do you want to learn the most common major and minor guitar chords? Instantly transpose songs from one major key to another? Find out which major and minor chords go together? Play scales in any major key? Learn the notes on the fretboard? It's easy! And it's free! Just download and print Tom's Guitar Cheat Sheet.

Index to Tom's Articles

Here's an index to more than 440 of Tom's articles in Microprocessor Report, the insider's guide to microprocessors, networking chips, and mobile-phone chips. Learn about embedded processors, microcontrollers, digital-signal processors, and other chip-related topics. (Subscription required for most articles.)

Scramble Text With ROTator
ROTator is an applet that lets you encode and decode text in the popular Internet format known as "ROT 13." Lots of other programs do that, but my applet goes further by allowing you to encode and decode text in any rotational letter-substitution format. You can shift the letters left or right, and you can shift them by any number of letters from ROT 1 to ROT 26. Use my all-new JavaScript version (recommended) or the original Java version.

Test Your Java Security
How safe is your system from hostile Java applets? Find out with JSecure, one of Tom's free applets. JSecure harmlessly tests the security manager of your Web browser or applet viewer by trying to access information from your computer's operating system and hard disk. Try it today!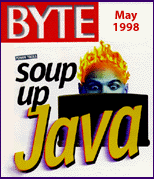 BYTE Articles

Here is an index to more than 180 of Tom's computer articles from BYTE Magazine published from 1992 to 1998. (BYTE ceased publication in June 1998.) Most articles are still available online and include the original photographs, figures, and screen shots.

And more stuff...
Visitors to this web site since August 29, 1966:

Last site update: June 15, 2018