WWWWWWWWWW


Site Directory


Tom's Inflation Calculator



Inflation Calculator
Frequently Asked Questions


Microprocessor Report
(article index)


BYTE Magazine Archive
(article index)


Unofficial BYTE FAQ
( R.I.P. 1975-1998 )


Shutterbug Archive
(magazine articles)


Tom's Oscar Contest
2016 results


Tom's Oscar Contest
Hall of Fame


Recent Movies

Blade Runner 2049 is the worthy sequel to the gritty 1982 science-fiction film starring Harrison Ford. Placed 30 years further in the future, it stars Ryan Gosling as a Los Angeles cop who hunts and kills rebellious replicants—artificial, genetically enhanced humanoids. His routine mission gains importance when he suspects they have found a way to reproduce. Ford reprises his original role, 30 years older, but Gosling dominates the picture with a stoic performance. Cameo appearances and allusions to the 1982 film will please its cult following. The climax satisfies while leaving room for additional sequels, although they will struggle to top the existing works.

Dunkirk dramatizes Operation Dynamo, which rescued more than 400,000 British and French troops from the beaches of Dunkirk, France, in early World War II. Surrounded by German forces, harassed by bombers, the Allied troops were trapped with their backs to the English Channel. To evacuate them, the British desperately mobilized hundreds of fishing boats and pleasure craft. Study this history before seeing the movie, because writer and director Christopher Nolan (Interstellar, The Dark Knight, Batman Begins, Memento) offers no help. Unsatisfied with history's gift of a strong story, he resorts to scrambled editing and deliberate discontinuity to bring confusion to the screen. Is it day or night? Is it today or tomorrow? Is it England or France? Nolan works hard to undermine his fine actors and special-effects wizards. With more respect for the story, this could have been a great film.

Baby Driver is one of the best car-chase movies on film. Little-known Ansel Elgort (The Fault in Our Stars and Divergent, 2014) stars as Baby, a young man who ceaselessly listens to music on his Apple iPod to drown out his chronic tinnitus. When he accidentally becomes indebted to a master criminal, he's forced to become a getaway driver for a series of daring robberies. Luckily, he's a wizard behind the wheel, but his skills only get him ensnared more deeply. The getaway chases are the highlights of this thrill ride, always synchronized to Baby's iPod soundtrack. Kevin Spacey, Jon Hamm, and Jamie Foxx deliver great performances as creepy criminals.

Wonder Woman tries to rise above the usual summer blockbusters by adding dashes of feminism and moral ambiguity. It doesn't go far, however. Although Israeli actress Gal Gadot delivers a credible performance as an incredible character, the plot settles into a comfortable good-versus-evil fable with few shades of gray. German viewers will probably dislike their portrayal as the bad guys—in particular, a bizarre reimagining of Erich Ludendorff, a real World War I general—but they must be used to the Hollywood treatment by now. The movie's high point is the midpoint, when Wonder Woman departs her secluded island of Amazons and enters the gritty London of 1918. The culture clash is at once amusing and disquieting. Her puzzlement over women's fashion soon turns to confusion over the fetish for war.

>> See more mini-reviews, including Alien: Covenant ... The Circle ... Moonlight ... Hidden Figures ... Manchester by the Sea ... La La Land ... Collateral Beauty ... Hacksaw Ridge ... Loving ... Arrival ... Snowden ... Sully ... Star Trek Beyond ... Finding Dory ... The Jungle Book ... Eye in the Sky ... Hello, My Name is Doris ... Whiskey Tango Foxtrot ... and many more!
Tom's Inflation Calculator
Tom's Inflation Calculator is now updated with the latest data for 2016!
My calculator includes the latest U.S. government inflation data plus alternative data sets. It's free and should run automatically in your web browser after clicking on the link above. By using historical data and forecasts, it can adjust U.S. dollar amounts for retail price inflation either forward or backward in time for any years between 1665 and 2100. (The alternative data sets have narrower ranges.)
Tom's Inflation Calculator also includes the Personal Consumption Expenditures Price Index, which the Federal Reserve uses to guide its monetary policy, and an alternative data set from ShadowStats, a private company. It's the best inflation calculator on the Internet!

Computer Dictionary
Common Terms Defined
Are you baffled by a technical term or acronym you've never seen before? Or just curious about the latest techie slang? Tom's Computer Dictionary may have the answer. From "AAC" to "zoo virus," it defines more than 800 terms in plain language. Learn to speak geek!

Guitar Cheat Sheet
Do you want to learn the most common major and minor guitar chords? Instantly transpose songs from one major key to another? Find out which major and minor chords go together? Play scales in any major key? Learn the notes on the fretboard? It's easy! And it's free! Just download and print Tom's Guitar Cheat Sheet.

Index to Tom's Articles

Here's an index to more than 420 of Tom's articles in Microprocessor Report, the insider's guide to microprocessors, networking chips, and mobile-phone chips. Learn about embedded processors, microcontrollers, digital-signal processors, and other chip-related topics. (Subscription required for most articles.)

Scramble Text With ROTator
ROTator is an applet that lets you encode and decode text in the popular Internet format known as "ROT 13." Lots of other programs do that, but my applet goes further by allowing you to encode and decode text in any rotational letter-substitution format. You can shift the letters left or right, and you can shift them by any number of letters from ROT 1 to ROT 26. Use my all-new JavaScript version (recommended) or the original Java version.

Test Your Java Security
How safe is your system from hostile Java applets? Find out with JSecure, one of Tom's free applets. JSecure harmlessly tests the security manager of your Web browser or applet viewer by trying to access information from your computer's operating system and hard disk. Try it today!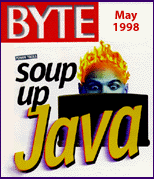 BYTE Articles

Here is an index to more than 180 of Tom's computer articles from BYTE Magazine published from 1992 to 1998. (BYTE ceased publication in June 1998.) Most articles are still available online and include the original photographs, figures, and screen shots.

And more stuff...
Visitors to this web site since August 29, 1966:

Last site update: November 17, 2017