WWWWWWWWWW


Site Directory


Tom's Inflation
Calculator
(JavaScript version)


Tom's Inflation
Calculator
(Java version)


Inflation Calculator
Frequently Asked Questions


Microprocessor Report
(article index)


BYTE Magazine Archive
(article index)


Unofficial BYTE FAQ
( R.I.P. 1975-1998 )


Shutterbug Archive
(magazine articles)


Tom's Oscar Contest
2015 results


Tom's Oscar Contest
Hall of Fame


Recent Movies

Jupiter Ascending makes me wish that someday Hollywood will outgrow its obsession with computer-graphics special effects. I'm tired of waiting for the story to resume while an overdone action scene veers into videogame mode—especially when the story is as interesting as this one. Channing Tatum, Mila Kunis, and Eddie Redmayne star in this science-fiction drama about a present-day immigrant house cleaner who unwittingly becomes the focus of galactic intrigue. It seems that Earth is merely an "estate" owned by capitalistic space aliens intent on economic exploitation, and a deceased owner has reincarnated to reclaim ownership. But whenever the story gets rolling, Tatum gets into a repetitive fight with various pixelsaurs. A lower budget that shortened the fight scenes would have actually helped this movie. It's not all bad, but it's not a must-see.

Selma is a dramatization of the American civil-rights movement in 1965. The focus is Dr. Martin Luther King's march from Selma to Montgomery, Alabama to protest that state's barriers to black voter registration. Although generally accurate, historians criticize it for showing President Lyndon B. Johnson as overly reluctant to propose the Voting Rights Act to Congress. Nevertheless, the film effectively re-creates a period in which frivolous local laws and prejudiced county registrars prevented millions of U.S. citizens from voting. Oddly, the filmmakers couldn't find Americans to play the lead roles, but David Oyelowo and Carmen Ejogo (both born in England to Nigerian parents) give excellent performances as Dr. King and his wife, Coretta Scott King. Tom Wilkinson, Dylan Baker, and Tim Roth are less convincing as President Johnson, FBI director J. Edgar Hoover, and Alabama Governor George Wallace, though only for people old enough to remember that era. This film's strength is its depiction of the backroom maneuvering that underlies every social movement.

A Most Violent Year isn't as violent as the title implies, even though the backdrop is New York City in 1981, when a local heating-oil business is under attack by mysterious criminals. This film is a work of art in every way, right down to the muted colors that mimic a faded color photograph from that era. Writer/director J.C. Chandor (All Is Lost, 2013) gets skillful performances from Oscar Isaac as the harassed business owner and Jessica Chastain as his mobster-daughter wife. Halfway through, I thought I had this crime story figured out, but I was surprised by the climax—and by Isaac's character, which turns a 360-degree twist. (I dare not say more.) The biggest crime is that this film garnered no Academy Award nominations. It ranks among the best efforts of 2014.

American Sniper is the most representative movie yet made about the Iraq War—because, like the war, it's a pack of lies. It's based on the autobiography of Chris Kyle, a U.S. Navy SEAL sniper who scored more than 160 kills during four combat tours. But director Clint Eastwood and screenwriter Jason Hall start hallucinating from the very first scene, when Kyle must decide whether to shoot a child carrying a grenade. (Never happened, according to Kyle's book.) They continue by fabricating additional characters ("The Butcher") and by building much of the drama around an enemy sniper who gets only passing mention in Kyle's book and whom Kyle never killed. Hollywood filmmakers always fictionalize true stories to some extent, but this film is shameless. As a final insult, Eastwood doesn't show us how Kyle died, probably because this genuine war hero didn't fall heroically in combat. Instead, he died by foolishly thinking that a shooting range would be good therapy for a shell-shocked veteran—who abruptly lost control when a gun was placed in his hands. Although the movie is filled with graphic combat scenes, the climax of Kyle's life story was apparently too ironic and contradictory to merit the same treatment.

>> See more mini-reviews, including Wild ... The Imitation Game ... Big Eyes ... Nightcrawler ... The Theory of Everything ... Interstellar ... Birdman (or The Unexpected Virtue of Ignorance) ... Before I Go to Sleep ... Fury ... Kill the Messenger ... The Giver ... Boyhood ... Lucy ... Magic in the Moonlight ... Begin Again ... Godzilla ... Edge of Tomorrow ... Maleficent ... Finding Vivian Maier ... The Grand Budapest Hotel ... The Monuments Men ... and many more!
Tom's Oscar Contest
First Place Prize: Rebecca Willingham
Second Place Prize: David English
Booby Prize: Amy Helen Johnson
Rebecca Willingham has won Tom's 32nd Annual Oscar Contest. David English tied her score but finished in Second Place because he submitted his Oscar ballot later. Likewise, three contestants scored a perfect zero, but Amy Helen Johnson won the last-place Booby Prize by submitting her ballot first. Read the thrilling story of this year's contest, check the final scoreboard, see how Tom's OscarCalc program fared with its Oscar predictions, read the winners' acceptance speeches, and view the Oscar contest Hall of Fame.

Tom's Inflation Calculator
Now there are two versions of Tom's Inflation Calculator—the original Java version and an all-new JavaScript version for wider compatibility with web browsers, smartphones, and tablets!
Tom's Inflation Calculator includes the latest U.S. government inflation data plus alternative data sets. Both calculators are free and should automatically run in your web browser after clicking on the links above. By using historical data and forecasts, they can adjust U.S. dollar amounts for retail price inflation either forward or backward in time for any years between 1665 and 2100. (The alternative data sets have narrower ranges.)
The JavaScript version includes a new data set—the Social Security Wage Index. In addition to using the U.S. government's official inflation data, both Inflation Calculators offer an alternative data set from ShadowStats, a private company. These are the best inflation calculators on the Internet.

Computer Dictionary
Common Terms Defined
Are you baffled by a technical term or acronym you've never seen before? Or just curious about the latest techie slang? Tom's Computer Dictionary may have the answer. From "AAC" to "zoo virus," it defines more than 800 terms in plain language.

Fuji X20 Review

Read my in-depth review of the new Fujifilm X20 compact digital camera on the Maximum PC magazine website. Access is free!

Guitar Cheat Sheet
Do you want to learn the most common major and minor guitar chords? Instantly transpose songs from one major key to another? Find out which major and minor chords go together? Play scales in any major key? Learn the notes on the fretboard? It's easy! And it's free! Just download and print Tom's Guitar Cheat Sheet.

Index to Tom's Articles

Here's an index to more than 380 of Tom's articles in Microprocessor Report and Networking Report, the insider's guides to microprocessors and networking semiconductors. Learn about embedded processors, microcontrollers, digital-signal processors, and other chip-related topics. (Subscription required for most articles.)

Test Your Java Security
How safe is your system from hostile Java applets? Find out with JSecure, one of Tom's free applets. JSecure harmlessly tests the security manager of your Web browser or applet viewer by trying to access information from your computer's operating system and hard disk. Try it today!

Scramble Text With ROTator
ROTator is a Java applet that lets you encode and decode text in the popular Internet format known as "ROT 13." Lots of other programs do that, too, but Tom's ROTator applet goes further by allowing you to encode and decode text in any rotational letter-substitution format. With ROTator, you can shift the letters left or right, and you can shift them by any number of letters from ROT 1 to ROT 26.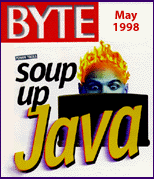 BYTE Articles

Here is an index to more than 180 of Tom's computer articles from BYTE Magazine published from 1992 to 1998. (BYTE ceased publication in June 1998.) Most articles are still available online and include the original photographs, figures, and screen shots.

And more stuff...
Visitors to this web site since August 29, 1966:

Last site update: February 28, 2015